Just in time for my second shot, the CDC revised their policies that fully vaccinated people can do anything without masks. They can go outside, go to parties, ride buses, get a haircut, and work out. People who haven't gotten vaccinated are still relegated to the beach of the Sneetches with no stars upon thars.
Of course, it's still at the discretion of the businesses and corporations and owners to determine who gets in and who doesn't. But from their perspective, there's no way to know who's vaxxed and who's not. There's no vaccine registry. We got vaccine cards that aren't wallet-friendly, but I haven't seen any business, from Mom and Pop bar to corporately-owned airline, request to see them. And I don't think blood tests are in our future (like in Deep Space Nine).
Now they're going to get flack from both sides. "Hey, I don't need to wear a mask. I'm fully vaccinated!" "Okay, how do I know that. Do you have your card?" "Lost it." "Medical records." "Don't have 'em." "Call from your doctor?" "He's on vacation." "Then I how can I prove you're not lying."
And of course, the anti-maskers have proven themselves to be no better. "Hey, you let that guy be maskless." "He's fully vaccinated, sir. He proved it with his card." "You're violating my rights. This is cancel culture!"
For those people who can get vaxxed and don't, they can go die for all I care. It's not a debate anymore. You do you. Hospitals aren't over capacity anymore. You want to catch it and have damaged lungs for the rest of your life (if you make it that long), go ahead. Be like Ted Nugent and Donald Trump and Boris Johnson and Herman Cain who thought there was no problem. It's called natural selection. The more of you that drink a bucket of virus and keel off, the quicker the rest of the living can move forward.
But I've seen plenty of people on Twitter who say they're going to keep wearing masks. And I'm fine with that. Masks are useful for not spreading disease. And there are people who can't get the shot due to compromised immune systems or whatever. No one ever died from wearing a mask, but plenty have died from not wearing one.
The average person doesn't know who's vaccinated and who's not. You could walk by someone coughing a big batch of Covid in your face as you pass them on the street. Even the fully vaccinated can still spread Covid. Remember–vaccinations don't prevent you from catching and spreading the disease, it just prevents you from going to the hospital. Fortunately, it seems like transmissibility is much lower in the vaccinated, but it's not zero. It's the pissed jeans theory of communicability.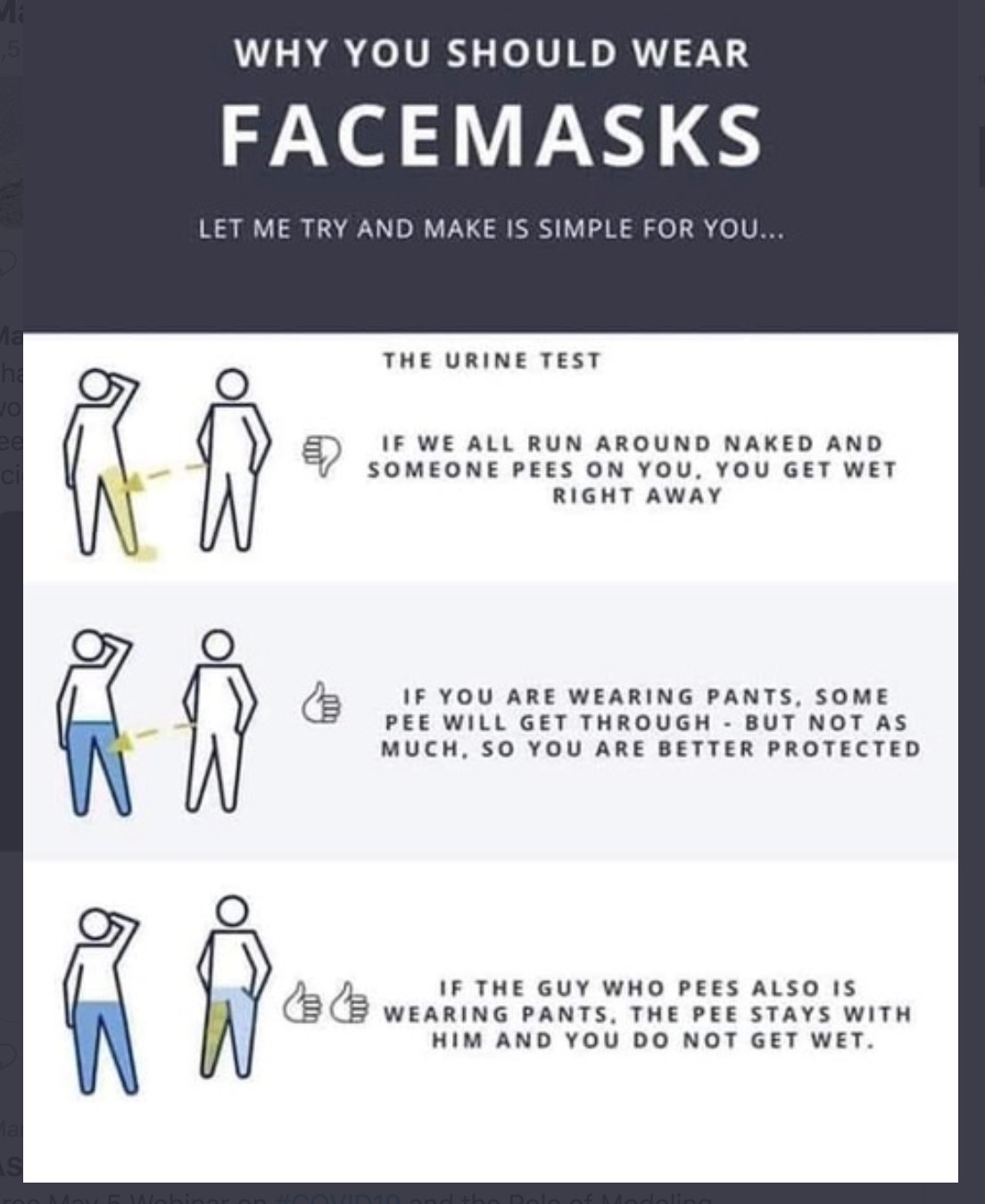 But that begs a question… when will you stop wearing a mask?
You're not going to wear it forever, right? I assume not. And I know you're not going to stop wearing it tomorrow, that's fine. So now we're just in negotiations.
It'll probably be determined by the businesses. That does seem to be what runs the country, after all. But each business will have to determine for themselves when to relax certain restrictions. A lot of people use Disneyland as a litmus test because they're practically their own government. When they closed, we knew Coronavirus was serious business. But after an unprecedented thirteen months of closure, they reopened. Does that mean healing has begun?
Maybe, except they opened to California residents only, at 25% capacity, and face masks are mandatory. No fast passes. No single rider queues. And the following rides are closed: Jungle Cruise, Matterhorn Bobsleds, Submarine Voyage, Buzz Lightyear, Great Moments with Mr. Lincoln, Grizzly River Run, and Little Mermaid. No monorail. No trams. No kids play area. No indoor dining. No turkey legs. No parades. No stage shows. No character meet-and-greets. And no nighttime fireworks shows.
I'd hardly call that Disneyland with so many missing elements. You must be a diehard nutso to spend your saved-up vacation money on such a diluted experience. But it's a start. The real test is when and how Disney lifts these restrictions over time. And I think, at least I like to hope, that everything I mentioned above will return. As I do with everything else. I think I will be able to go to a Twins game at 100% capacity with no face mask. Maybe as soon as the end of this season.
Except there's that 300% increased Minneapolis crime rate.